Preventive Dentistry in Houston, TX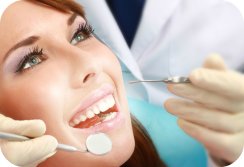 Sealants and Topical Treatments
At Acadian Family Dental we know preventive dental care is key to your oral health. In addition to avoiding the pain and worry about decay, acid erosion, gum disease and other dental conditions, preventing potential problems is less expensive than restorative procedures like cavity fillings, root canals and tooth extraction.
Preventive Care at Acadian
To keep your mouth healthy, Acadian Dental provides:
Regular exams and cleanings
An effective oral health plan unique to you
Education in how best to brush and floss
Oral cancer screening
Recommendations for specialized toothpastes or rinses
Sealants and topical treatments to protect your teeth and prevent cavities
Sealants and Topical Treatments
The proper use of dental sealants and topical fluorides is one of the best ways to prevent tooth decay, cavities, and enamel erosion, especially for children and adolescents who may not be as careful with their oral hygiene.
Sealants
Dental sealants are used most often on the biting surface of the back teeth to prevent cavities and decay. In this procedure, a thin resin or plastic coating is painted on the molars in particular, where we often have deep groves and small pits. Sealants create a physical barrier against food particles, germs, and bacteria. The Center for Disease Control has found that sealants used in preventive dentistry (as well as water fluoridation) can reduce tooth decay significantly.
Topical Fluoride is a paste that is re-applied at regular intervals. It protects the pits, fissures, and grooves in your teeth against future cavities and is especially important for minors who might not brush as they should.
Your Child and the Importance of Prevention
CDC researchers found that more than 15% of children between 6 and 9 years old may be suffering from an untreated dental disease. The director of the Center for Family Health will tell you that parents need to bring children in at least once a year for an exam beginning at their first birthday. For many families, this may be a successful way to avoid having their children sobbing in the middle of the night from painful toothaches.
Preventive dental care is different for every age and stage of life, and optimal oral health comes from understanding the needs of minors, adults and seniors too. Acadian Dental provides quality preventive care that will help you:
Preserve your natural teeth for a lifetime
Prevent pain, decay and tooth loss
Lower the risk of oral disease
Keep your smile healthy and beautiful
Our friendly staff can educate and provide you tools reduce the risk of tooth decay developing over time. Call Acadian Dental, your experts in Houston TX for superior Preventive Dentistry.