Dental Implants in Houston, TX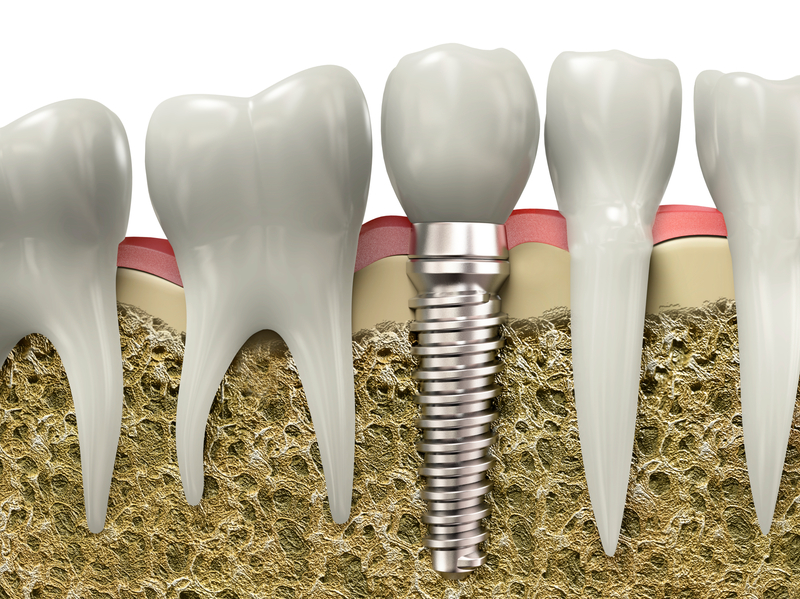 The dental implants provided by Acadian Family Dental in Houston, TX can change your life.
The right implants will give you a beautiful, healthy smile, let you chew and eat normally and will help to prevent bone loss. Implants are titanium rods anchored into your jaw. They fuse to your bone and serve as strong, long-lasting artificial tooth roots. With proper care your implants should last a lifetime.
Permanent dental implants are used to support several tooth-restoration options.
Talk to the dentists at Acadian Dental to determine which procedure is best for you.
Crowns
Dental implants have abutments which can be crowned to replace your missing teeth. This is very effective for a single tooth or multiple teeth where indicated.
Crowned implants are designed to function similarly to your natural teeth and to match them in size, shape and color.
A crown can be made of porcelain, metal or a combination of porcelain over metal. It will entirely cover your remaining tooth, (which will be filed down,) making it stronger and more aesthetically pleasing. The crown goes only to the gum line and not below.
Please note that not all crowns are supported by implants. Sometimes they are used to "cap" your existing tooth if it has been weakened, broken, worn or cracked. Crowns also protect teeth that have fillings larger than the remaining tooth structure, as well as teeth that have had a root canal.)
Benefits of Permanent Dental Implants
Implants can be used to anchor a single or multiple crowns or an entire arch of replacement teeth.
According to the American Academy of Implant Dentistry, there are a number of benefits to investing in dental implants. They will:
Look and feel like your natural teeth
Encourage new bone growth
Prevent other teeth from shifting
Preserve your natural bite and smile
Last longer and be more durable than resin-bonded bridges (which rely on existing teeth to support them.)
Dental Implants In-Depth
According to the American College of Prosthodontists, about 40 million Americans have lost all their teeth due to gum disease, decay, poor oral hygiene, injury, or regular wear.
Roughly 3 million people have dental implants and the number has been increasing by 500,000 yearly.
Fortunately, the success rate for this type of dental procedure is about 98 percent.
Call Acadian Dental today and discuss your options for quality dental implants in Houston, TX that will feel just like your natural teeth.