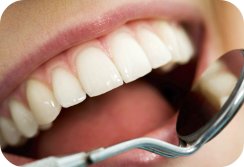 One of the most common oral diseases is periodontal disease, also known as gum disease. Periodontal disease is much more common than you might think as the World Health Organization estimates that about 15 to 20 percent of middle-aged adults suffer from severe periodontal disease.
Care for Early Stage Periodontal Disease
We use noninvasive techniques for patients in the earliest stages of periodontal disease. Scaling and root planing is the standard of care for the beginning stage of periodontitis. Through this technique, our dentist carefully cleans the roots of your teeth to remove plaque and bacteria. You may need regular treatments to prevent gum disease from worsening.
Surgical Treatments for Periodontal Disease
If your periodontal disease is already advanced or does not respond well to root planing and scaling, we offer surgical treatments to help you. Pocket reduction surgery allows us to reshape the contours of your teeth's roots and your gum tissue so that we can more effectively clean them. If you have lost some gum tissue, we offer soft tissue grafts to help protect the roots of your teeth. Bone grafting for your jaw can also help.
Reducing Your Risk of Periodontal Disease
In addition to treating early-, middle- and late-stage periodontal disease, we can also help you lower your risk of having your condition worsen. Our dentist may be able to prescribe a medication that helps to correct problems such as dry mouth, which worsens periodontitis. We can also prescribe antibiotics to help get rid of gum tissue infections that cause periodontal diseases.
If you have pain, swelling or bleeding in your gums, Acadian Family Dental is a trusted source for quality dental care and periodontal treatment for clients in the Houston, TX, area.